Quilting patterns and kits for the young at heart
Doll quilt designs by Kathleen Tracy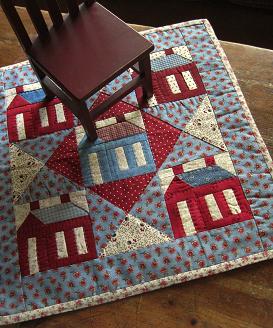 Why do little doll quilts from the past have such a universal, sentimental appeal? The small quilts that we quilters fall in love with are not accomplished specimens with expert stitches, but the ones that have a naive, childlike quality. Typically, a small, simple quilt was a young girl's first effort at sewing. How hard these young quilters must have worked on their projects! Many doll quilts were made from scraps because that was all that was available. As children practiced on these and became more proficient, their skills improved and, as they grew older, they went on to help make larger quilts for the family.
Learn to quilt today the way children did in the past--by sewing simple little doll quilts . Have fun while you learn to piece basic blocks that quilters have been using in their quilts for hundreds of years. Use fabric scraps to give your quilts your own "personal" look and add a simple charm that reminds us of doll quilts made centuries ago. Pass on the tradition to a child. Try the free pattern on this site or one of the patterns for little quilts you will find in my books, American Doll Quilts or Prairie Children and Their Quilts (coming in November 2006). Easy enough for beginners, charming enough for the quilter who's young at heart.
Stop by again to see my new kits page coming soon!
NEW! Prairie Children and Their Quilts, coming in November 2006!
American Doll Quilts

We accept the following credit cards through Paypal:

Country Lane Quilts
P.O. Box 1039
Deerfield, IL 60015